Welcome to Sercombe Sheep
Farming is in our blood and livestock breeding has always played a part in our lives. We like to breed superior animals, the aim being each generation is an improvement on the previous.
We now run a modern, diverse and hopefully substainable sheep breeding business over multiple sites in NE Leicestershire. This incorporates several pure and cross bred nucleus flocks and a large scale commercial unit producing finished lambs.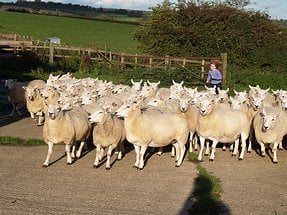 We are currently running pure bred flocks of Charollais, Lleyn, Blue Texel and Abermax. We have also developed our own maternal line based on the Lleyn but with Norwegian White, NZ Texel and Abermax genetics carefully added in.
All classes of stock from all breeds are available for sale on a pedigree and commercial basis, specialising in shearlings sold from the farm.
Signet Performance Recorded
Scrapie Genotyped/ Monitored