Sandlands Farm is situated in the heart of the Wreake valley, just outside Melton Mowbray, Leicestershire. Sandlands is a 20ha County Council smallholding, but with other land rented in a variety of agreements the total area farmed is approximately 350ha, mostly grassland but some cereals and forage crops.
The main focus of our business are the sheep flocks and our aim with these is to make them profitable, easy to manage and enjoyable to work with.
The Charollais, now the UK's premier easy lambing terminal sire breed, has been a major part of our business for 35 years. Without doubt the breed now provides commercial farms with easily born, vigourous, quick growing and well fleshed lambs - an ideal combination.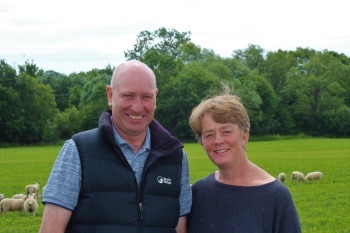 We took on Waterloo Lodge Farm, including the sheep, in 2012 and now run a commercial flock of 1,600 ewes there. The flock is based on the Lleyn ewe, with several crosses including Aberfield, Charollais, Texel and some of our own maternal line from Sandlands. It is a difficult farm to manage being cold and late in spring, poor soils and old natural grazing which limits output. We are learning though and with improved genetics, improved husbandry (thanks to our shepherd Chris Deptford) and more proactive management we are starting to build a substainable business.
We closely monitor the performance of the sheep in the commercial flock to give us a very valuable insight into the effectiveness of our breeding programme.
Established in 1986 with the purchase of 4 sheep, this flock has been ever present in our lives and business since.
Founded by our great friend David Wheatley, Victoria took over the flock when ill health made it impossible for him to manage the sheep on a day to day basis.
Established in 2011, this flock belongs to Grace who has enthusiastically managed and shown them ever since.